Header_1
Header_2

Header_3

Header_5
About Shri Sidh Baba Balak Nath Temple
Mandir Shree Sidh Baba Balak Nath Ji situated at Chattarpur Extention, New Delhi, India, welcomes you and invite you to take blessings of Baba Ji and Guru Sant Shri Rajeshwari Deva Ji (Known as Guru Maa Ji).
Baba Ji himself has instructed to build this temple at this current place. The auspicious foundation of this temple was laid under the guidance and able leadership of Sant Shri Rajeshwari Devi Ji. This temple is a very sacred place for all its devotees and followers. Every day and specially every Sunday hundreds of devotees of Baba Ji visit the temple to offer their prayers. It is the firm belief of the followers that if you offer your prayers for five consecutive Sundays and make a wish, it is fulfilled immediately. Every month on Jhetha Itwar (Sunday after Puranmasi) a Langar is held at the Mandir, where the devotees themselves prepare and serve food to hundreds of devotees who start visiting the temple right from early morning till late evening. Every Sunday afternoon the devotees perform a Kirtan and Guru Maa Ji guides to all devotees how to live spritual and happily life. Devotees offer Rote & Halwa parshad to Baba ji. Temple Hours : Sun : 10.00 am – 3 pm every Sunday.
About Guru Maa Rajeshwari Deva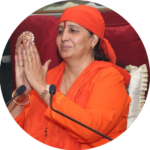 Spiritual leader, Yogi, Humanitarian, Guru in Transcendental meditation, Opening the awareness of people to infinite reservoir of energy that lies deep in all.
Shri Sidh Baba Balak Nath Mandir, D84, Chhattarpur Extension Road, Block D, Chhatarpur Extension, Chhattarpur, New Delhi, Delhi